ComplianceQuest Recognized by Frost & Sullivan for Innovation in Advancing Modern Cloud Enterprise Quality Management Solutions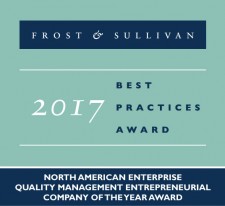 TAMPA, Fla., October 10, 2017 (Newswire.com) - ​ComplianceQuest, a modern cloud Salesforce-based Enterprise Quality Management System (EQMS) for Manufacturing and Life Sciences, announced today it has been named the recipient of Frost & Sullivan's 2017 North American Enterprise Quality Management Entrepreneurial Company of the Year Award.
As part of Frost & Sullivan's annual Excellence in Best Practices Awards, the Entrepreneurial Company Award recognizes the company that provides the best innovation and customer impact and has the genuine potential to disrupt the market by delivering advanced products that clearly help customers achieve desired outcomes with significant value for the price.
ComplianceQuest's decision to use the Salesforce cloud is an astute decision to focus and drive innovation into its solutions while leveraging everything the Salesforce business platform provides today and will provide in the future. The breadth of this timely EQMS solution offering clearly demonstrates the company's path-breaking ability to rapidly deliver differentiated value in the market.
The EQMS market is a competitive space, and most vendors offer solutions built on a rigid legacy on-premise/hosted infrastructure that lacks the ability to scale up/down performance and reliability. They have lengthy development timeframes and the inability to take advantage of the latest disruptive technology. However, the ComplianceQuest solution is an innovative EQMS built on modern cloud architecture—leveraging advanced technologies such as collaboration, mobility, artificial intelligence, and machine learning—to offer a unified application suite that addresses the present-day and emerging quality and compliance business challenges, anywhere, anytime.

The solution is built and runs natively on the Salesforce platform. "ComplianceQuest's decision to use the Salesforce cloud is an astute decision to focus and drive innovation into its solutions while leveraging everything the Salesforce business platform provides today and will provide in the future," says Frost & Sullivan Research Manager, Muthuraman (Ram) Ramasamy. Ram states further, "The breadth of this timely solution's offering (i.e., audit, CAPA, change, complaints, document control, equipment management, safety incidents, inspections, nonconformance, supplier, and training) clearly demonstrates the company's path-breaking ability to rapidly deliver differentiated value in the market."

ComplianceQuest integrates its solution suite with complimentary enterprise software solutions including ERP, laboratory information management (LIMS), asset management, purchasing, product lifecycle management (PLM), manufacturing execution (MES), and human resources management (HRM) systems. These span across the entire operational value chain and bringing together key data to understand the 360-degree view of quality, compliance, and safety metrics. In addition, through rich application programming interfaces (APIs) and Force.com, ComplianceQuest easily integrates with third-party applications (Salesforce appexchange) while providing a consistent user interface experience and a common and standards-based object environment.

ComplianceQuest has tripled in size since its inception, with much of its success due to the leadership team's over 20 years of EQMS experience and its company's mission—putting customers first. ComplianceQuest's rapid "ABCD" (Agile-Based CQ Deployment) implementation methodology focuses on the customer and makes deployment simple and easy for users to configure the solution to meet their specific business requirements. The implementation methodology is flexible and through design and training workshops, enables ComplianceQuest to work easily with small and medium companies, as well as large enterprises.

"We've had incredible feedback from the marketplace. We're excited about our current and future success with working with customers in diverse industries, our partners, and the Salesforce ecosystem to drive the next-gen modern cloud EQMS," said Nikki Willett, Chief Strategy Officer at ComplianceQuest. "Our team is honored to be recognized for our innovation and passion for driving our customers' growth by unlocking the power of quality in the modern cloud. We remain focused on our customer first mission and constantly delivering value to our customers."

Each year Frost & Sullivan presents this award to the company that has demonstrated excellence in business development, competitive strategy, and leadership. It lauds outstanding management, consistent growth, and positive social and economic impact on local and national communities and customers.

Frost & Sullivan Best Practices Awards recognize companies in a variety of regional and global markets for demonstrating outstanding achievement and superior performance in areas such as leadership, technological innovation, customer service, and strategic product development. Industry analysts compare market participants and measure performance through in-depth interviews, analysis, and extensive secondary research to identify best practices in the industry.

About Frost & Sullivan

Frost & Sullivan, a global growth consulting company, has been partnering with clients to support the development of innovative strategies for more than 40 years. The company's industry expertise integrates growth consulting, growth partnership services, and corporate management training to identify and develop opportunities. Frost & Sullivan serves an extensive clientele that includes Global 1000 companies, emerging companies, and the investment community by providing comprehensive industry coverage that reflects a unique global perspective and combines ongoing analysis of markets, technologies, econometrics, and demographics. For more information, visit http://www.awards.frost.com.

About ComplianceQuest

ComplianceQuest is the fastest growing, 100% modern cloud Enterprise Quality Management System (EQMS) natively built and run on the Salesforce platform. Delivering best-in-class out-of-the-box solutions, ComplianceQuest fast-tracks an organization's efficiency, safety, and overall performance by combining enterprise quality, compliance, collaboration and communication across the product value chain. Suitable for emerging growth companies and scalable and flexible to meet the needs of medium and global enterprises, ComplianceQuest is easy to implement, validate, and use. Our team of domain experts is committed to innovation, product excellence and to the success of our customers. For more information, visit ComplianceQuest's website at www.compliancequest.com.

Contact:
Shalini Chowdhary
P: 408-458-8343 X 267
E: media@compliancequest.com

Source: ComplianceQuest

Share:
---
Categories: Business Technology, Compliance and Regulations, Risk Management, Supply Chain Management, Manufacturing, Pharmaceuticals and Biotech, Cloud computing, Saas (Software as Service), Healthcare Technology, Production and Manufacturing, Quality Control, Enterprise Resource Planning (ERP), Business News
Tags: Compliance, Enterprise Quality Management System, EQMS, Life Sciences, Manufacturing, Quality, Salesforce
---
Related Files
Additional Links

Shalini Chowdhary
Head of Marketing and Partnerships, ComplianceQuest
ComplianceQuest
10618 Lucaya Drive
Tampa, FL 33647
United States