ComplianceQuest Recognized by CIOReview as One of the Top 20 Promising Digital Experience Solution Providers for 2017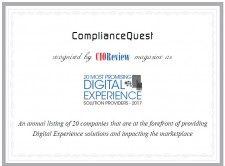 TAMPA, Fla., November 2, 2017 (Newswire.com) - ​​​​​​​​CIOReview magazine (Nov 2017) named ComplianceQuest as one of the Top 20 Most Promising Digital Experience Solution Providers in 2017. ComplianceQuest, a 100% native Salesforce cloud based enterprise quality management system, is driving the paradigm change of modern quality for manufacturers worldwide.
With the growing demand for great digital customer experience solutions, CIOReview researched several organizations offering innovative solutions to provide customers with a consistently engaging, personalized and relevant digital experience. Delivering rich, integrated capabilities for managing digital content of all forms, real-time social communications, business analytics and mobile device delivery has become the core for cost-effectiveness in customer engagement today. ComplianceQuest, offers ground-breaking digital experience for modern cloud enterprise quality management systems (EQMS). It exhibits profound industry knowledge, and in-depth expertise in delivering superior digital experience solutions with flexible, appealing, and consistent user experiences across every channel of an organization.
ComplianceQuest's EQMS platform kick-starts the growth and digital experience of manufacturing companies by empowering them to manage quality in a collaborative supply chain.
ComplianceQuest shares its DNA with Salesforce and has harnessed the capability to offer an entirely modern cloud-based EQMS solution to the manufacturing world whether they are highly regulated or not. It offers a unified application suite using Salesforce tools that addresses the present-day and emerging quality and compliance business challenges, anywhere, anytime. Data from various systems, such as ERPs, CRM and Salesforce appExchange solutions can be connected with easy integrations by ComplianceQuest. "ComplianceQuest's EQMS platform kick-starts the growth and digital experience of manufacturing companies by empowering them to manage quality in a collaborative supply chain," said Nikki Willett, Chief Strategy Officer at ComplianceQuest.

ComplianceQuest's solutions (i.e., audit, CAPA, change, complaints, document control, equipment management, safety incidents, inspections, nonconformance, supplier, training, etc.) are highly flexible, enabling ComplianceQuest to work with the small companies, usually hesitant to adopt radical market strategies, in the same way as large enterprises. ComplianceQuest makes deployment simple and easy. It assists its customers and executes the configuration stage with a careful eye on user needs.

"It is a great honor to be selected as one of the top 20 most promising Digital Experience Solution Providers for 2017," said Nikki. "We look forward to rolling out even more digital solutions in the future to continue to help customers reach their goals." 

In today's dynamic global economy, the ability to be agile and responsive to change is more important than ever before. Information and the interactions around it has become key assets of most enterprises, and making correct decisions in shrinking cycle times is the defining operating characteristic of winning companies. CIOReview, a technology magazine, has been at the forefront of guiding organizations through the continuously disruptive landscape and providing enterprise solutions to redefine the business goals of enterprises tomorrow.

ComplianceQuest is the fastest growing, 100% modern cloud Enterprise Quality Management System (EQMS) natively built and run on the Salesforce platform. Delivering best-in-class out-of-the-box solutions, ComplianceQuest fast-tracks an organization's efficiency, safety and overall performance by combining enterprise quality, compliance, collaboration and communication across the product value chain. Suitable for emerging growth companies and scalable and flexible to meet the needs of medium and global enterprises, ComplianceQuest is easy to implement, validate and use. Our team of domain experts is committed to innovation, product excellence and to the success of our customers. For more information, visit ComplianceQuest's website at www.compliancequest.com.

Contact:
Shalini Chowdhary
P: 408-458-8343 X 267
E: media@compliancequest.com
W: www.compliancequest.com

Source: ComplianceQuest, CIOReview Magazine

Share:
---
Categories: Compliance and Regulations, Automotive, Manufacturing, Pharmaceuticals and Biotech, Cloud computing, Supply Chain Management
Tags: CIOReview, Compliance, Digital Experience, Enterprise Quality Management System, modern cloud, Quality
---

Shalini Chowdhary
Head of Marketing and Partnerships, ComplianceQuest
ComplianceQuest
10618 Lucaya Drive
Tampa, FL 33647
United States